Links

Test
Weather




Rainfall

= Gage has reported that no precipitation has occurred in the time step listed above.
M
= Gage has not reported in last 6 hours. Data missing.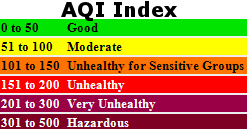 MCDAQ Current Data


= This station does not have the specific air quality sensor you selected at its location.
Click on following tabs to view the different datasets available on this website.
Air Quality Index Map (AQI)
This map displays the AQI, which is a longer-term 8-hour or 24-hour air pollution average that is related to health standards and regulatory air quality requirements. This map is useful to compare daily air quality to health standards, though the calculation used in this map is different than official daily averages and some differences can be expected.
Current Conditions Map (NowCast Index)
This map displays the NowCast Index, which is a short-term air pollution average (1-hour) that can reflect changing conditions. The NowCast Index uses the same color and scale as the AQI and can provide a rough estimate of how hour-to-hour pollution levels compare to 8 or 24-hour health standards. NowCast values change rapidly and should not be confused with official daily air pollution averages.
Raw Data Map
Current actual data from all monitored parameters at each site, such as hourly or five-minute pollution concentrations and/or meteorological data, are available on this map.



Historical reports and graphs can also be accessed for each location and the maps can be filtered by pollutant parameter. Click the 'Info' tab on the map header for more information.Click here for more information about the Maricopa County Interactive Air Quality Map.
Warning: These data have been obtained from automated instruments and have not been subjected to a quality assurance review to determine their accuracy. They are presented for public awareness and should not be considered final. Conditions such as power outages and equipment malfunctions can produce invalid data. Please note that not every pollutant is measured at every site.
These data are updated every 15 minutes. The map refreshes current dataset every 2 minutes.
Use the Datasets Menu and Dialog to change select a AQI value. Use the Current Data Menu and Dialog to view the MCAQD Current Weather Data, individual sensor data, FCDMC weather data and FCDMC 24 hour rainfall totals. Use the Layers menu to turn on/off NWS Warnings, Radar, and Satellite imagery.
Peak Wind, NO2, O2, CO, PM-2.5, West Phoenix PM-10, and North Phoenix PM-10 are updated hourly and everything else is updated every five minutes.
NWS Warning Areas provided by NWS RIDGE Displays (http://radar.weather.gov/ridge)
Radar, precipitation estimates, and satellite imagery layers provided by Weather Decision Technologies (WDT): http://www.wdtinc.com